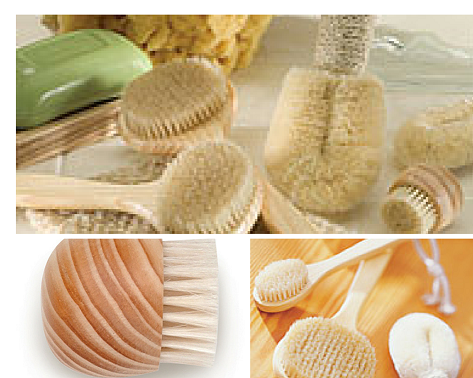 Brushing isn't just for your hair and teeth – there's body brushing too. Body brushing, also called dry brushing, removes dead skin using a natural bristle brush (a synthetic brush will irritate the skin). Why dry brush? Read on, friends…
What are the benefits?
Dry Brushing not only helps your skin exfoliate (get rid of dead skin cells), but proponents say it also stimulates your skin cells – improving your circulation, detoxifying your blood (some say up to a pound of toxins a day!), boosting your immune system, and eradicating cellulite (as you might have guessed, this claim gives dry brushing most of its fan base).
What's the technique?
Some believe there is only one way to brush your skin: Reach down to the bottom of your feet and move in soft circular motions towards the heart. Brush up the back of the legs and then the front. Switch to your finger tips and up one arm, and then to the other arm. Finally brush the lower abdomen to the chest. Be sure to avoid delicate area like the face and areas where the skin is broken (acne, rashes or any open sore or cut). Finish the process with a shower. Of course, this sort of reminds us of some of the many things humans over-think. Probably some brushing is good; more is better; and too much is too much! Use your judgment and see what feels good!
Where did this technique come from?
There's disagreement around the origins of dry brushing. Some credit Finland as its birthplace; others think China or the Middle East. Whoever started it, lots of variations have emerged through the years. The Japanese used a loofah instead of a brush before a hot bath. The Greeks used a spoon-like skin scraper called astrigile (which looks painful to use). The Cherokee Indians used corn cobs and the Comanches used sand (which sounds painful to use).
Today most spas skip the corn cobs and use the brush – offering it as an add-on to other treatments as well as on its own. If you find you like this technique, and decide to add it to your daily home regimen, consider Baudelaire's Japanese style boar bristle brush and brush your skin to health.