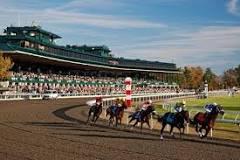 Once you've set your sights on importing the highest quality soaps and personal care products, you can very quickly find yourself in some pretty interesting company. Over the years Baudelaire has delivered soap to Hollywood celebrities like Tom Cruise and Brad Pitt, famous athletes like Raymond Floyd or Bill Russell, world class designers, politicians, and frankly, who knows who else?
We have also done business with five star hotels, casinos, department stores, cruise ships, car washes, hair salons, giftshops, cafes and restaurants, schools, bookstores, antique dealers, etc. But we had never gotten involved with horse racing… that is, until this year. It turns out – no surprise – horse owners and high rolling gamblers need to wash their hands just like the rest of us, and they need a top quality product!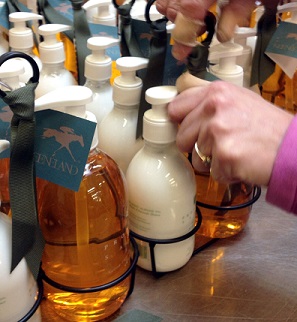 We were approached by the folks from Keeneland Stables in Lexington, KY who were desperate for affordable, high quality soaps and lotions for their private viewing boxes. We had just what they were looking for: our Provence Sante Liquid Soap and Body Lotion in a hand-forged wrought-iron caddy. As is true in so many cases, the simplest solution is often the best. Since we had this handy little item all set to go, all we had to do was transform it into something that would fit in at the track. Piece of cake for our vastly experienced assembly team!
So off to the races we went to take in all the sights. And how was it? It was a peek into a passion driven world. The thoroughbred is front and center here, and the sights, sounds and smells all point to horse. The horses are magnificent athletes and are treated as such. The grounds are beautiful and green, and Keeneland is a National Historic Landmark. Tours, guided and unguided, are offered to the public. Keeneland is the site of thoroughbred racetrack events each April and October and the energy is undeniable – not to mention the huge crowd of tailgating gatherings for the races! Keeneland is also the world's leading thoroughbred auction house, selling more champions and stake winners than any other sales company. The Keeneland library is home to one of the world's largest collection of thoroughbred information. Keeneland clearly has a place at the epicenter of the thoroughbred racing world.
Back in New England, we are grateful we had the opportunity to experience Keeneland front and center. We made some great memories (and only lost $17.00) as we welcomed Keeneland Stables into our family of Baudelaire customers.