What makes a Baudelaire brush stand out from the competition? Like everything else we carry, artistry and craftsmanship go into each brush we make. From choosing the right wood for the desired purpose and selecting the perfect density of bristle to match, you can't go wrong with any of our three brush collections.
About the Types of Wood
Cedar
Japanese Cedar (Cryptomeria Japonica) is extremely fragrant, weather, and insect resistant. The soft, low density of the wood makes it relatively easy to work with, and its natural water resistance is perfect for a bath item. The cedar is sustainably grown on plantations. Commonly used in boat building.
Bamboo
Bamboo is, technically, a member of the grass family, Poaceae. Bamboos include some of the fastest-growing plants in the world due to a unique rhizome-dependent system. Certain bamboo species can grow 910 mm (36 in) within a 24-hour period. This rapid growth and its tolerance for marginal land make bamboo a good candidate for afforestation, carbon sequestration, and climate change mitigation. Commonly used in tableware.
Beech
Beech is an important and widely used hardwood in Europe. Its hardness, wear-resistance, strength, and excellent bending capabilities make it perfect for handles. The beech used for our collection is sustainably harvested, meaning that 1-2 new trees are planted for every tree harvested. Commonly used in beer casks.
Cedar Brush Collection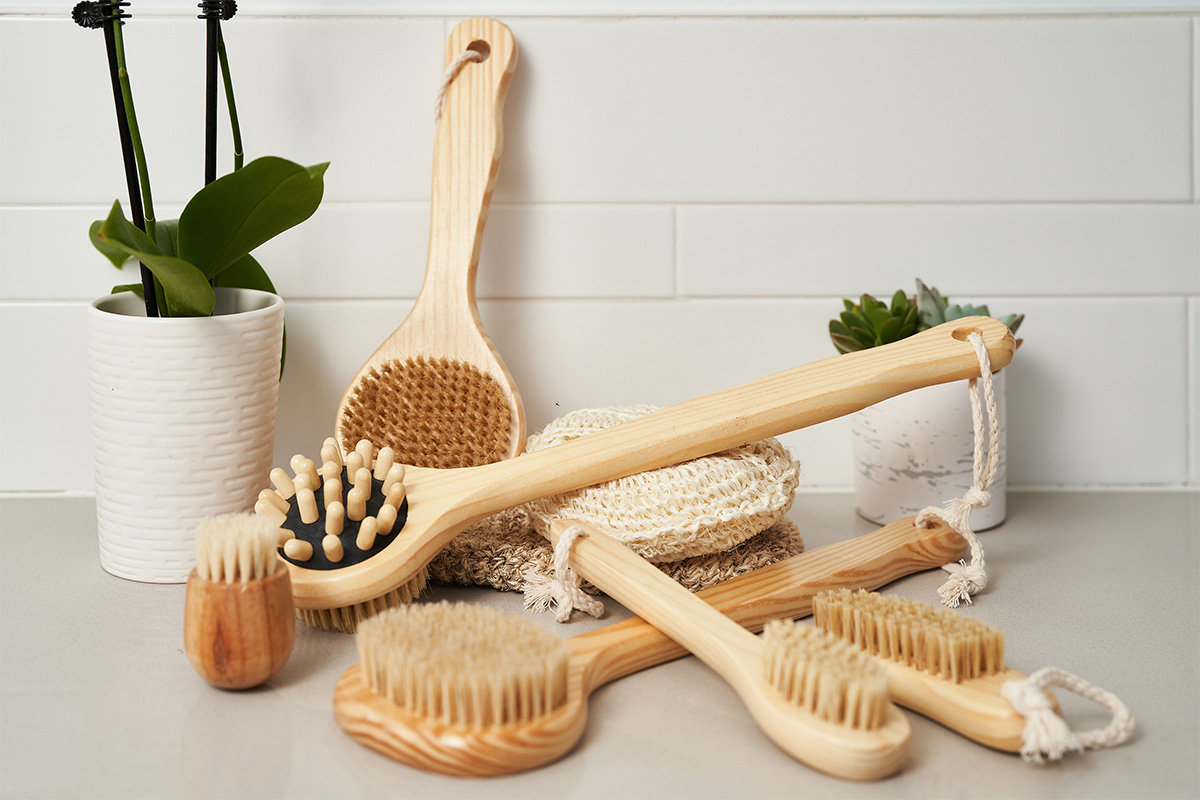 Cedar is the original Baudelaire brush that has made many Americans happy for decades. Our cedar brushes are simple in design, made from flat pieces of wood, and shaped to fit the usage. Incorporating cost-effective boar bristles along with these attributes makes them an affordable and versatile option. SHOP THE CEDAR COLLECTION
Bamboo Brush Collection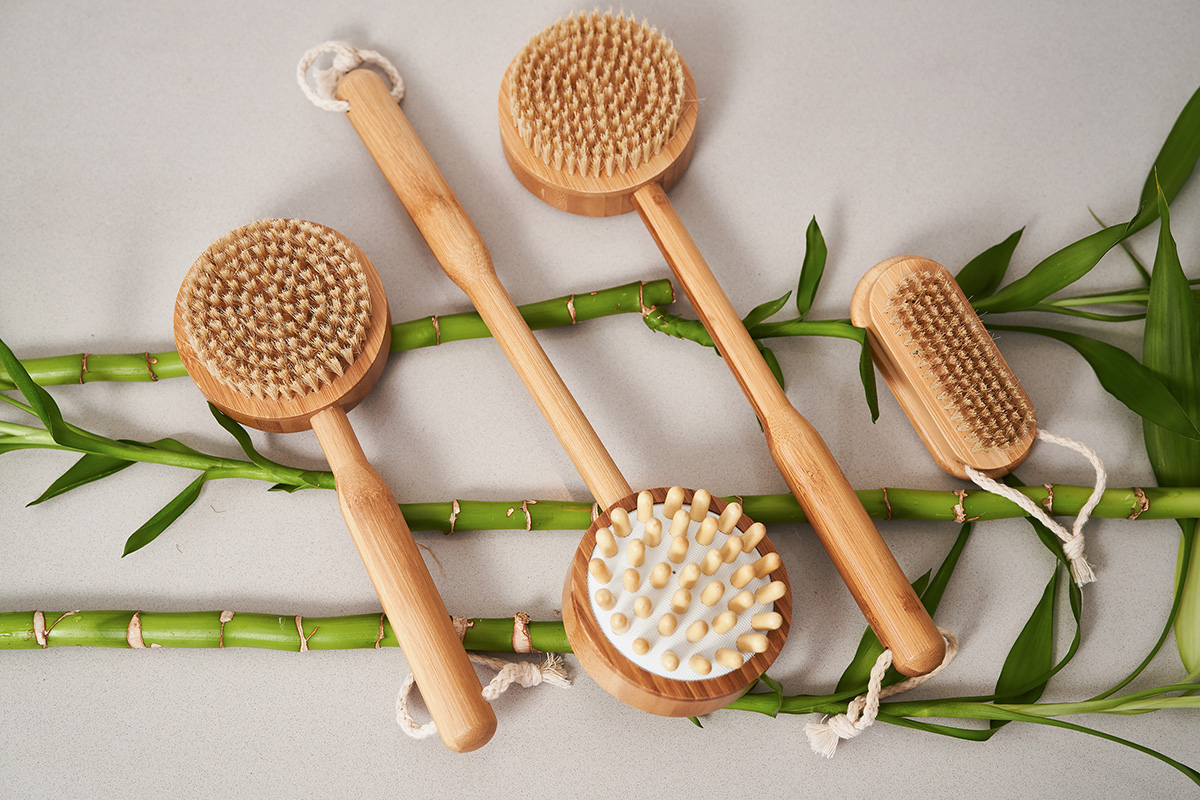 Baudelaire launched the bamboo collection in 2020 to complement our assortments. Our bamboo brushes are slightly more complex, with rounded handles and circular heads. This construction is more durable than a flat one but adds a bit of cost (and elegance). These brushes also feature boar bristles. SHOP THE BAMBOO COLLECTION
Beechwood Brush Collection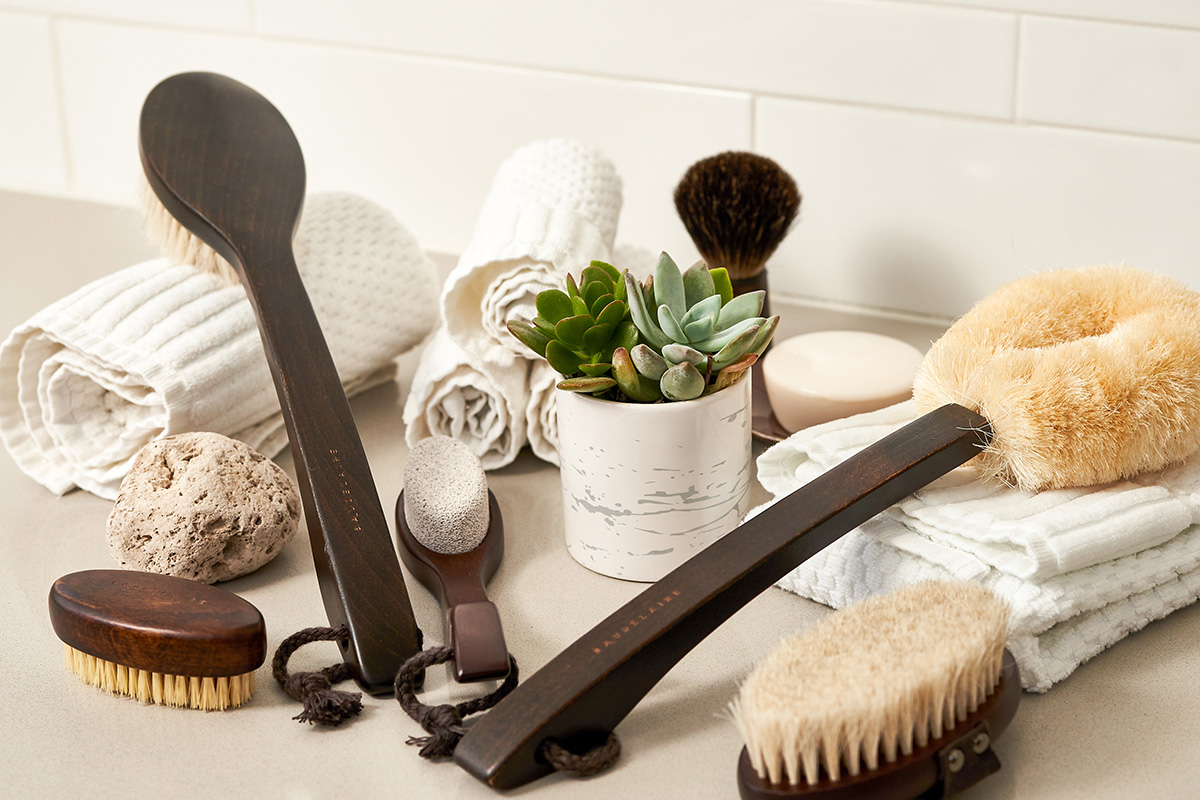 The newest addition to the Baudelaire brush collection and poised at the highest level of technique and luxury. Inspiration for the designs came from the famed Japanese body brushes, typically found in 'Onsen's (traditional, rural Japanese spas) around the country. Our beechwood brushes are much more complex, featuring curved handles and heads. They are highly ergonomic and long-lasting – the brush of a lifetime!
Besides the architecture of the wood, various high-end bristles are used across the line to distinguish them from the cedar and bamboo. The shaving brush utilizes fast-drying badger bristles –the pinnacle of luxury in brush-making, generating the best lather. The body brushes use horsehair bristles, which are softer and more luxurious. The long-handle dry brush uses sisal fiber and is therefore 100% vegan. At the same time, the nail brush retains stiffer boar bristles to stand up to a firmer scrubbing.
SHOP THE BEECHWOOD COLLECTION