New England is home to rich history, stunning landscapes, and hardworking communities; among its many unique qualities crafting exceptional bath and body care. In this blog, we'll tour the region's heart, uncovering where some of our fan-favorite artisanal goods come from. Each product, from honey-infused soaps to aromatherapy wonders and seaweed magic, echoes New England's dedication to time-honored craftsmanship.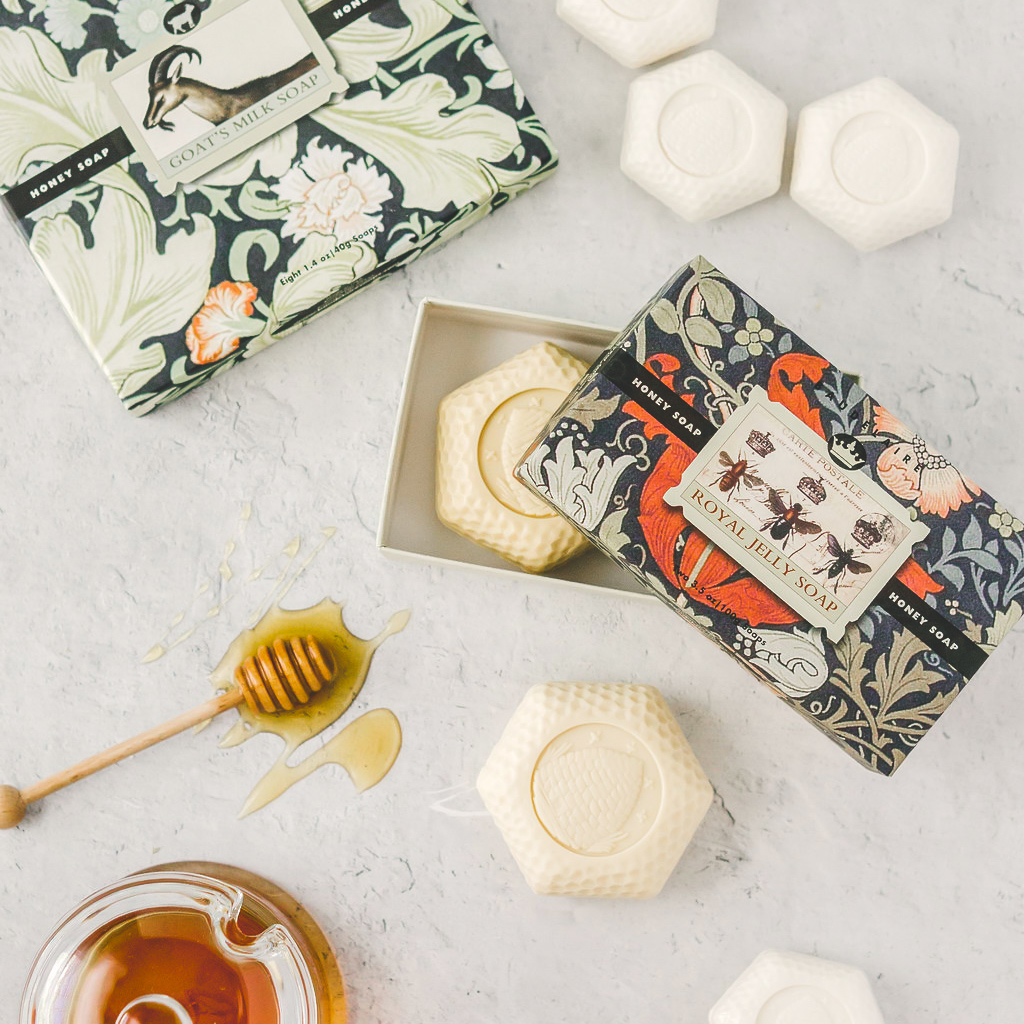 HONEY SOAPS
Honey Soap was Baudelaire's first artisan collection that began its journey in the Swiss Alps on a honey farm over 30 years ago. Their evolution took them across the Atlantic to Winooski, Vermont, where they found their place in the New England bath and body care scene in 2012. These honey-infused soaps generate a luxurious lather and embody the essence of moisture-rich care. At the heart of honey's magic lies its role as a humectant, naturally drawing in moisture. Each bar contains up to 5% honey plus nature's gems like nutrient-rich goat's milk, soothing comfrey, nourishing royal jelly, and antioxidant-rich pure honey. The result is a skincare experience that's both nurturing and indulgent.
LOOFA SOAPS
Loofa Soaps, celebrated for their ability to exfoliate and cleanse simultaneously, began their journey in the Normandy region of France in 1994. Later, they found a soap factory in Vermont during the mid-2000s, before finally settling into their current production hub in Fall River, Massachusetts, in 2022. These soaps have been meticulously handcrafted from day one using premium natural ingredients. The process begins with a harmonious blend of sustainable palm and coconut oil, shea butter, and natural fragrances, culminating in our prized 'super ingredient' from the sea. Each soap bar is enriched with dried seaweed sourced directly from the North Sea, imparting a gentle exfoliation that dissolves to rejuvenate the skin, cleanse, and restore equilibrium.
AROMATHERAPIES
Originating in the early 1990s within the 'wellness movement' of San Francisco, natural remedies gained significant popularity under the brand Jane, Inc. Thirty years later, Baudelaire acquired the iconic brand and established their new base in Swanzey, New Hampshire. Each aromatherapeutic product is meticulously handcrafted at the Baudelaire factory warehouse in Swanzey. These products are created through carefully formulated blends of sea salt, herbs, and pure essential oils, offering a completely natural method to revitalize the body and mind. The product range comprises specific formulations tailored to various purposes: BOOST for refreshing, UNWIND for calming, RECOVER for soothing, BREATHE for clearing, DETOX for cleansing, and SLEEP for inducing tranquility.
SOAP DISHES
Soap Dishes, symbols of functional art, were born in Massachusetts in 1997 and moved to Windsor, Vermont, in the mid-2000s. These dishes serve not only as holders but also as reflections of New England's craftsmanship. Each handmade soap dish is meticulously made from Ash and Poplar trees sourced locally within the region. Characterized by their sleek and uncluttered design, they feature thoughtfully incorporated drainage channels to allow you to get the most out of your soap!
New England's artisanal bath and body care products go beyond mere commodities displayed on a store shelf. They encapsulate the essence of tradition, the materials used, and the very spirit of the region itself. With Baudelaire located right in the heart of New England, we love that our products come from so close to home!