The hustle and bustle of the holiday season is just about over, and it's time to ring in the new year! Whether you are staying home alone or hosting a grand soiree, we have some simple and delicious handcrafted drink recipes to make everyone happy. All these drinks can be made 'nice' (mocktails) or with spirits for a 'naughty' twist!
Naughty and Nice drinks worth celebrating: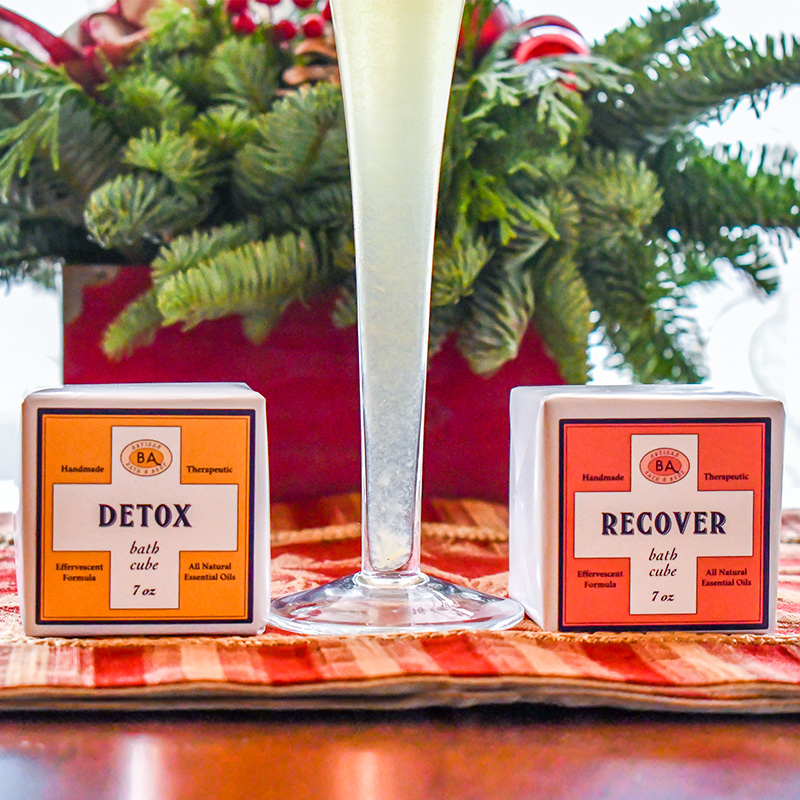 CHAMPAGNE PUNCH
The most classic of New Years drinks with a twist… no Champagne! (unless you want to add some, of course!) With or without alcohol, this fizzy drink is a crowd favorite along with our equally fizz-tastic Detox and Recover bath cubes—the perfect way to recoup after a night of being naughty!
Instructions: In a large bowl, combine ingredients and stir. Serve with a ladle into champagne flutes. Substitute Champagne for Ginger Ale to add an extra "punch"!
INGREDIENTS
1 bottle (2 liters) ginger ale
1 can (46 0z) pineapple juice
1 bottle (64 oz) white grape juice
Ice Ring (use bundt pan for mold)
APPLE–GINGER MOSCOW MULE
If you aren't ready for the Holiday season to be over then this is the drink for you! Apple cider, cinnamon, and nutmeg offer the warmth and comfort of the Holidays that you'll be looking forward to for next year. If you don't want to wait, try Loofa Spice! This exfoliating soap delivers those same warm notes year-round!
Instructions: Combine apple cider, lime juice, cinnamon, and nutmeg in a cold mule mug. Add ice cubes and ginger beer (or ginger ale) and mix. Top with cinnamon stick and apple slice for a festive garnish! Add vodka of your choice for some extra warmth with the spices!
INGREDIENTS
½ cup of apple cider
1 tbsp of lime juice
Pinch of ground cinnamon
Pinch of ground nutmeg
Ice cubes
½ cup of ginger beer (or ginger ale)
Apple slice
Cinnamon stick
CRANBERRY SANGRIA
Adorned with cranberries and orange, this fruity drink is the perfect way to kiss the holidays goodbye and kick off the new year! If you are into all things fruity, we think you will like Apricot or Bergamot from our Provence Santé collection.
Instructions: In a large pitcher, add cranberry juice, orange juice, seltzer, and fruit. Mix to combine. Pour over ice and garnish with an apple or orange slice! Substitute half the cranberry juice with your favorite red wine for a naughty twist!
INGREDIENTS
3 cups of cranberry juice
½ cup of orange juice
1 (12 oz) can of seltzer
1 orange, sliced
1 apple, cored and sliced
⅓ cup of frozen cranberries
Ice cubes
CANDY CANE COCKTAIL
Fresh and cool just like the weather here in New England! This drink will keep you up until the clock strikes twelve. If you are a fan of peppermint, try our energizing Boost spray in a shower mist or personal vaporizer. The peppermint oil will have you awake, refreshed, and ready for your day!
Instructions: In a small pitcher, mix half and half, cream soda, simple syrup, and peppermint oil (between 2 and 4 drops depending on how minty you want it). Pour into a martini glass and place a candy cane for garnish. Substitute Peppermint Schnapps to add more "pep" to your mint!
INGREDIENTS
1 cup of half and half
1 can (12 oz) of cream soda
4 tsp of simple syrup
2-4 drops of peppermint oil or extract
Candy canes
We hope you can use these recipes (naughty or nice) to create some tasty drinks and a cheerful evening! Remember to drink responsibly and stay safe. Cheers!